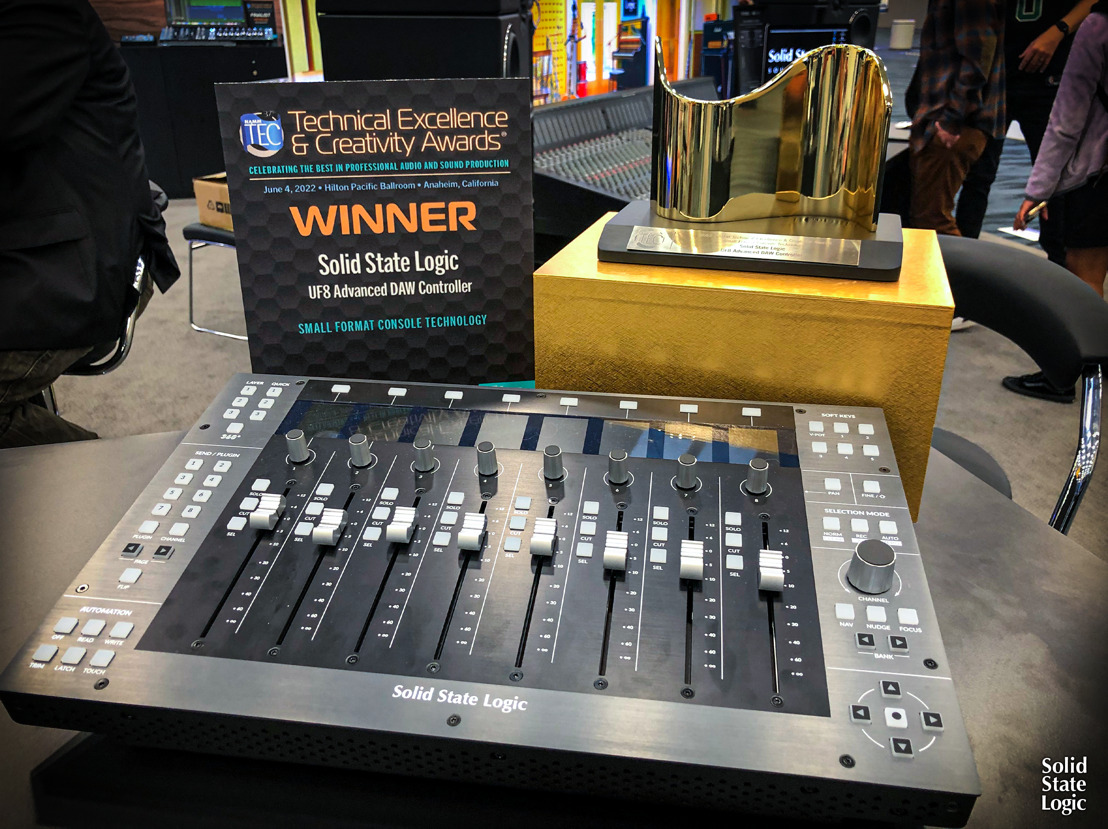 Solid State Logic UF8 Advanced DAW Controller Recognized for Outstanding Technical Achievement at 37th Annual TEC Awards
Anaheim, CA, June 30, 2022 — Solid State Logic was recognized by the NAMM Foundation with an Outstanding Technical Achievement award in the category of Small Format Console Technology for its new UF8 Advanced DAW Controller. The awards ceremony was held during the NAMM Show on Saturday, June 4th.
Andy Jackson, SSL Studio Product Manager, commented: "We are grateful to the NAMM Foundation and to our customers around the world for recognizing UF8. Our main purpose in designing UF8 was to keep mixers, producers and content creators in the 'creative zone' while providing high speed access to every fader and control on the worksurface."
The SSL UF8 represents the culmination of 40+ years of mastering studio ergonomics and production workflows, delivering a new level of user focused design for a broad range of users. ​ Featuring a premium build quality and high-quality componentry, the UF8 controller is able to enhance the workflow of hybrid production environments with its high-spec touch sensitive faders, encoders, and high-resolution colour displays. Its premium build quality and sleek aesthetic belie its value-driven price point. ​
Expandable to a 32-channel control surface with integration for all major DAW platforms, UF8 is ideally suited to music creation, production and mixing, post production and content creation. The new SSL 360° control software manages multi-controller configurations, customised user keys, and DAW switching across multiple layers, allowing for seamless switching between numerous sessions.
For more information on the TEC Awards, please visit www.tecawards.org.
To find out more about UF8 Advanced DAW Controller, please visit: https://www.solidstatelogic.com/products/uf8
###
About Solid State Logic
​Solid State Logic is the world's leading manufacturer of analogue and digital audio consoles and provider of creative tools for music, broadcast, live and post production professionals. For more information about our award-winning products, please visit: www.solidstatelogic.com.

Jeff Touzeau Public Relations, Hummingbird Media, Inc.