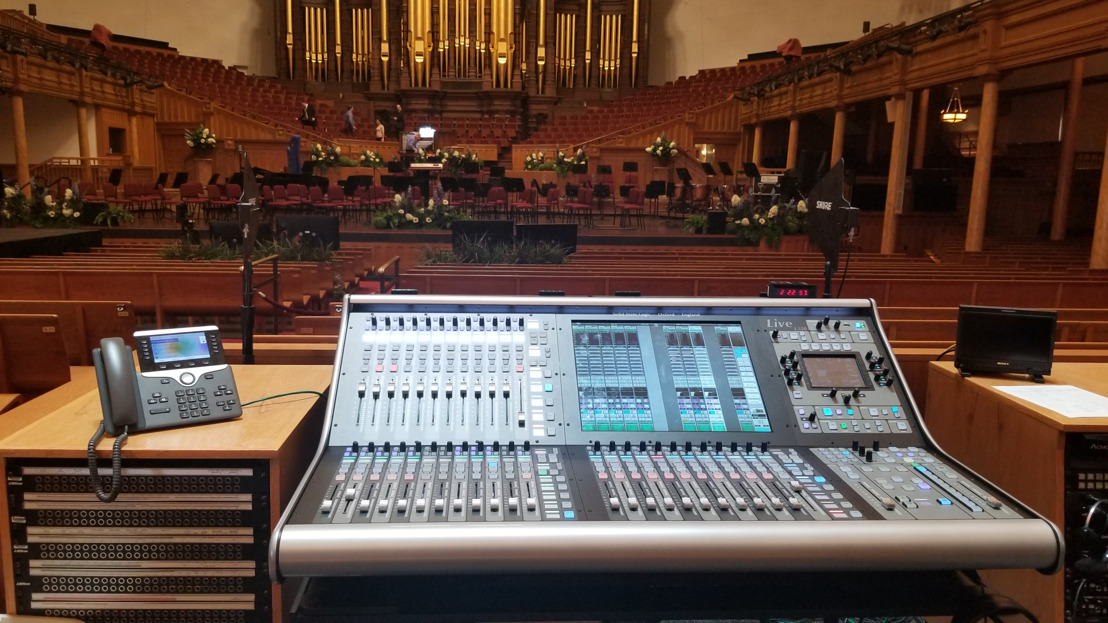 Mormon Tabernacle Installs Two Solid State Logic Live L550 Consoles For Use With The Tabernacle Choir and Orchestra at Temple Square
The two new desks, situated at front-of-house and monitor mix positions, were chosen because of their I/O power and 'flexibility that doesn't end'
Salt Lake City, Utah, August 25, 2022 — The Church of Jesus Christ of Latter-day Saints has installed two Solid State Logic Live L550 Plus live sound production mixing consoles at the historic Mormon Tabernacle in Salt Lake City. The two new desks, situated at front-of-house and the monitor mix position, perform sound reinforcement duties for The Tabernacle Choir and Orchestra at Temple Square as well as a host of other events held at the venerable venue, which has a seating capacity of about 3,500.
The new L550 Plus consoles join four SSL L500 Plus desks previously supplied to the LDS Church. Those consoles, which have all since been upgraded to the L550 Plus specification, which supports 288 processing paths, 36 matrix outputs and 48 VCAs, are in use at the LDS Conference Center as well as for touring applications.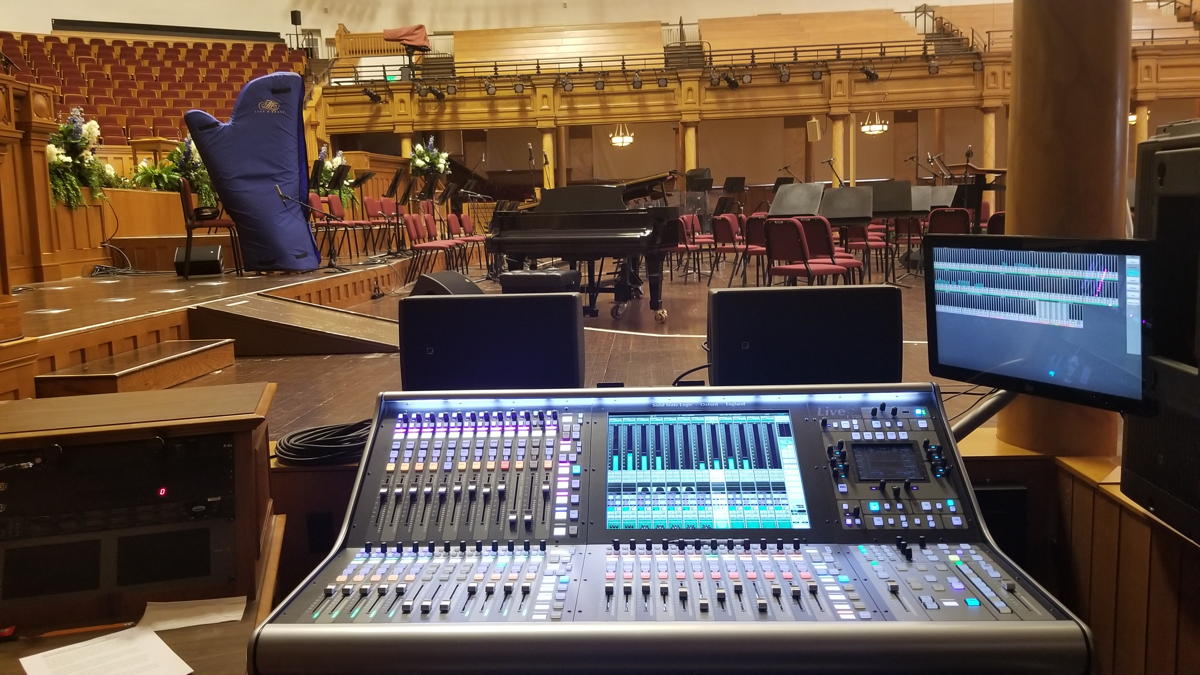 Flexibility that doesn't end
​As broadcast and events sound engineer Troy B. Morgan explains, some of the audio equipment in the Tabernacle was getting old and unreliable and needed to be replaced. "We were getting ready to update some of our I/O systems there and because we already had four SSL Live desks it was a natural thing to get two more," he says. "We were familiar with them, plus they have tons of I/O power, and they have flexibility that doesn't end."
The events that require the most inputs into the Live consoles are those featuring the 400-member Tabernacle Choir and 100-piece Orchestra. "The count can get pretty high," Morgan says, typically requiring 64 to 80-plus microphone inputs. "And there are always soloists and a piano, or even two pianos."
The previous I/O system, which was at least 15 years old, was beginning to wear out, he continues. "We were spending a lot of time trying to keep it operating, for both live and broadcast. When it came time to update it, the Live desks helped us solidify things and make everything a lot more user-friendly."
Scaling channel counts with powerful I/O
​Due to the historic nature of the building, which was completed in 1875, there is only so much that the audio team can do when installing equipment. "You can't just put a box in and run a bunch of cable to it," Morgan says. "But having MADI control and the interface between the consoles meant we could mount the SSL Stageboxes where the previous I/O was without having to run extra copper — because now it's a fiber line to front-of-house and a fiber line to the monitor mix position."
The new SSL Live console system has freed the audio engineers from the limited channel count of the previous I/O setup and the restricted capacity of the mixing consoles, Morgan continues. As an example, he might previously have had to take two microphones off the Choir to mic-up the piano. "But now we have all the microphone inputs at our disposal at both front-of-house and monitors without having to do any extra patching or having to get rid of a tympani mic or something. All the SSL I/O boxes have MADI outs on them and we have a lot of MADI systems in our recording and broadcast facility, so it was a lot easier to update the MADI lines and be able to plug right into them. It was the perfect match-up for us."
The domed roof of the auditorium was designed to provide near-perfect acoustics at the time it was built. "It was designed for speech, and it works well if one person is speaking," Morgan reports. Sometimes, an event or a service will require nothing more than a single podium microphone. "Then, when you have 400 people in the Choir and another 150 instruments in the Orchestra, it can be difficult to mix, so a lot of the reinforcement for the Choir doesn't necessarily use up much of the console. But the building is used for a lot of other events. Just last weekend we had a contemporary Christian rock band and a 400-person Choir. We got to use more of the Live console and the PA for that event," he says.
A nimble sound reinforcement solution — also suitable for broadcast
​Depending on the needs of any given event, he adds, "Part of the time we're having to mix the broadcast feed from front-of-house as well. Ninety percent of the events that we do are recorded to multitrack and/or broadcast. Usually, I'll also do a stereo recording as a backup, using the Dante interface." The Choir has released more than 200 recordings, has won a Grammy Award and four Emmy Awards, and has performed for 10 U.S. Presidents, beginning with President William Howard Taft soon after the turn of the 20th century.
Because of the building's size and acoustics, the FOH engineer has no need to add reverb, Morgan says. But there are elements of the Live desk's DSP that get regular use. "We use the multi-band compressor and dynamic EQ all the time to help make up for some of the acoustics of the building, to help get stuff heard a little more clearly, and to avoid feedback," he says. "So we're always using the console processing."
Creating showfiles for specific applications
​With four audio engineers on the Tabernacle's full-time roster, the L550's showfile capabilities are also in frequent use, with each mixer able to select a console-wide template as a starting point for any event. "Each engineer creates their own template based on the basic template we put together when we installed the Live consoles. When I go in there, for example, I'll recall the one that I used for the last show that was similar and just build from that," Morgan says.
"The biggest template we use is the Choir and the Orchestra, because they rehearse on Thursday nights, and they have a broadcast on Sunday morning. So we have to be able to flip from whatever it was we were doing to the Choir in a matter of eight hours," he continues. "So we make use of the scenes and the showfiles quite a bit."
The LDS Church took delivery of its first SSL Live desks in 2014, Morgan recalls. Two of those four L500 Plus desks were installed installation at front-of-house in the 21,000-seat auditorium at The Conference Center, the premier meeting hall for The Church of Jesus Christ of Latter-day Saints, and a smaller 800-seat theater in the same building. "Then we have one that's a dedicated monitor desk that we usually use in the big auditorium. That one also doubles as a portable touring monitor desk. And our fourth original Live is a front-of-house touring desk."
About Solid State Logic
​Solid State Logic is the world's leading manufacturer of analogue and digital audio consoles and provider of creative tools for music, broadcast, live and post production professionals. For more information about our award-winning products, please visit: www.solidstatelogic.com.

Jeff Touzeau Public Relations, Hummingbird Media, Inc.