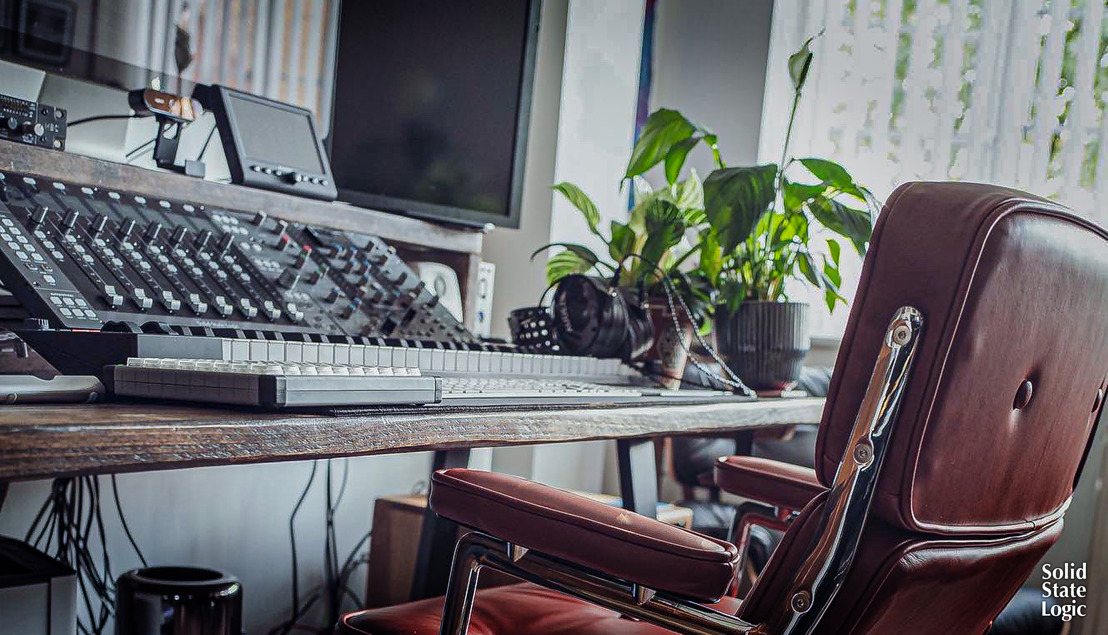 For Award-Winning Composer Michael Price, Solid State Logic's UF8 and UC1 Controllers are the Perfect Combination of Form and Function
Hertfordshire, UK, July 12, 2022 — After award-winning composer Michael Price and his family moved out of London in 2021 to be closer to parents and to nature, he took the opportunity to evaluate what tools of the trade he absolutely needed in his new stripped-down home setup. The answer, in addition to a piano and some comfortable furnishings, was his Solid State Logic UC1 Plug-in Controller and UF8 Advanced DAW controller, along with some choice outboard analogue mastering equipment.
Price, who won an Emmy award in 2014 plus a BAFTA nomination and two further Emmy nominations for the BBC's Sherlock series, had tried any number of physical and touch screen controllers over the years, he says. But he was unable to find any that truly supported his creative flow until he discovered the SSL units. "I have found these two control surfaces to be the most tactile and the most encouraging of a flow state of anything that I've used," he reports.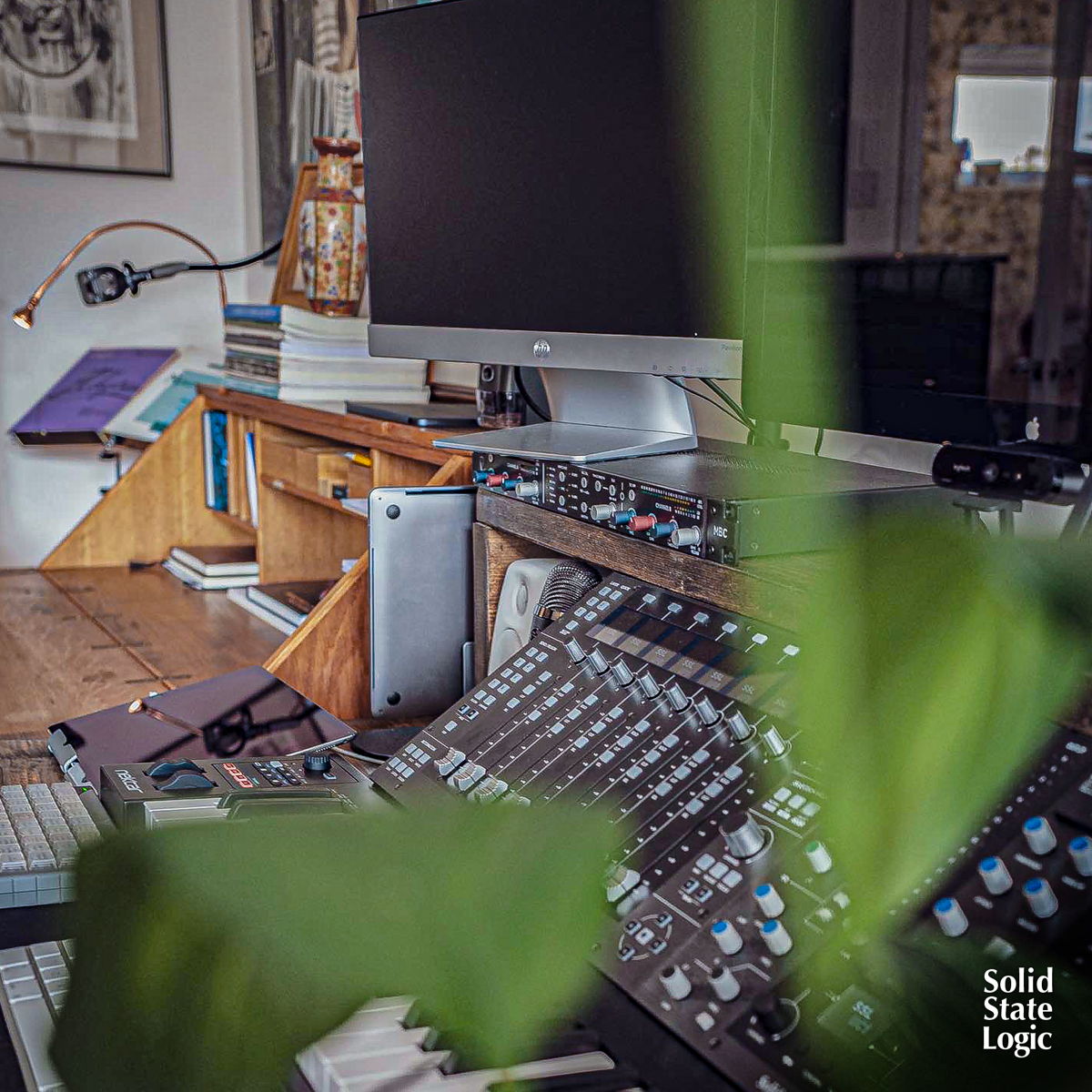 Elegance in design and software functionality
​A graduate of the Tonmeister course at the University of Surrey, Price stands astride the two worlds of engineering and creativity, which enables him to appreciate a piece of equipment's aesthetics just as much as its functionality. "I'm fascinated as much by elegant design in music technology as I am in furniture or composition," he says. "It's so beautiful when a company can take a design approach and a form and function approach to a problem, or a particular facility to add to your setup, and solve that problem in such a way that the box has an intrinsic beauty or elegance as well — particularly if you're going to use it every day. Hats off to the SSL designers."
He continues, "The UF8 solves a problem better than anyone else. And the build quality and functionality are great."
But the real key for Price is the elegance of the integration between the UC1 and SSL's 360 software. "Those two things are the big difference," he says, and provide a level of functionality beyond his DAW that has more in common with the mixing consoles on which he has worked for decades.
The 'Golden Strip' and SSL 360 Software
​"I instantiate a Channel Strip 2 plug-in across everything; that's built into my DAW templates," he elaborates. "I'm using the 360 software then as a mode switch, moving from composing to mixing by tabbing onto the 360 screen. I'm not looking at the waveforms anymore. I've got the UC1 to hand, where it's a very tactile, immediate, 'golden strip' approach to having the things that I'm focusing on on-screen. I haven't seen anything that elegantly contains as much information on the screen as the 360 Plug-in Mixer. And you have that overview and a sense of implicit geography that connects you back to that flow state that I'm always looking for."
Price has also experimented with pretty much everything he could find in terms of 'coloured' channel strips, he says. "Whatever console you've ever had, someone's made a channel strip of it. But I found with some of the console emulations that there was a darkness starting to creep in." Now, he says, "SSL's Channel Strip 2 with the 360 software is across everything. I'm happier with a cleaner, slightly more transparent world of working in-the-box."
Offering an example, he says, "If I'm bringing in recordings of real strings or real singers and dropping them underneath any synths I might be putting in, I'm happier with a cleaner environment. Then I can pick and choose with a little more discrimination — because I'm lucky enough to have this analogue mastering chain — and add some transformer weight to it in the analogue world at the end, rather than having everything be grimy and lose some of that transparency."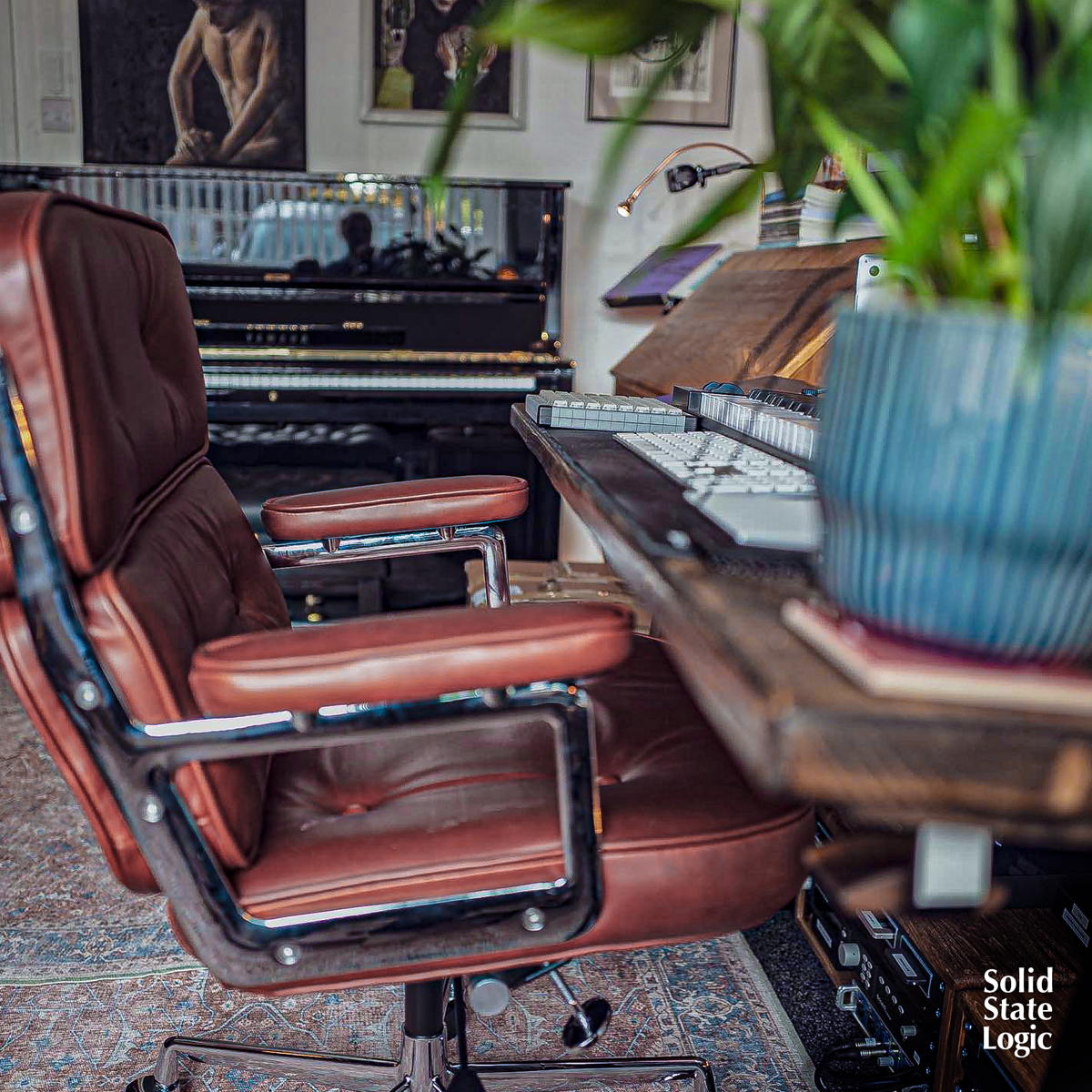 Tactile control and sonic transparency
​Price has also noticed that, because he's not looking at a graphic when he's using the UC1's EQ controls, he's happier with the choices that he's making. "It has clarity, and if it's just a knob in front of you, you turn it until it sounds right. I want to avoid building up grit that I can't lose. But I can then choose to put in the grit if I need it as a specific colour."
He reports that he typically puts the Bus Compressor across all his stems. "We usually have between eight and 12 stems that we deliver for most things. Often, the compressors are doing almost nothing, with the threshold set so that they're compressing only at very high levels. Or, if it's a percussion stem, I might crunch it a little bit."
Price hadn't planned on setting up a music and recording room at the new location, he admits, having long preferred keeping work and family separate, as he had in London, where he still maintains a 600-square-foot production facility. But his planned sabbatical was interrupted when the deadlines for a couple of TV scoring projects, including ITV's BAFTA-winning crime drama Unforgotten, returning for a fifth season, began to approach. "The net result was that I've set up in the study at home," he says. He adds, "My template is built for Unforgotten, which is filming now, so the SSL controllers are in place to do that."
The UC1 and UF8 were also in place when Price worked on his next solo project, Whitsun, earlier in the pandemic. "I used them for the composition process and world-building for the new album. I recorded myself on the Una Corder, a single-string piano with a beautiful bell-like quality, and the Yamaha CS-80. I sang a bit as well. Everything went through my SSL template and the devices, then Guy Massey — who is amazing, and a friend — did his magical mixing at the end of it."
A bespoke study, outfitted with fine furniture and SSL controllers
​Overall, the new study studio needed to accommodate Price's three creative endeavors. "One is, I play the piano, often in an improvised way. Then, I write film and TV scores. I also write contemporary classical music, predominantly on paper with a pencil. That's like trying to construct beautiful architectural musical buildings with proportion and interesting number patterns, and an analogue process," he says.
"So when I was putting this room together I wanted it to reflect those three things more closely — the piano, pencil and paper, and recording and producing film and TV music. I've also got a selection of very comfy leather chairs in here. I'm a mid-century modern furniture fan, so there's an Eames Lounge chair and a beautiful Eames Lobby chair in a very striking red leather." Taken together with the two SSL controllers, Price says, "It's a very tactile room."
About Solid State Logic
​Solid State Logic is the world's leading manufacturer of analogue and digital audio consoles and provider of creative tools for music, broadcast, live and post production professionals. For more information about our award-winning products, please visit: www.solidstatelogic.com.

Jeff Touzeau Public Relations, Hummingbird Media, Inc.