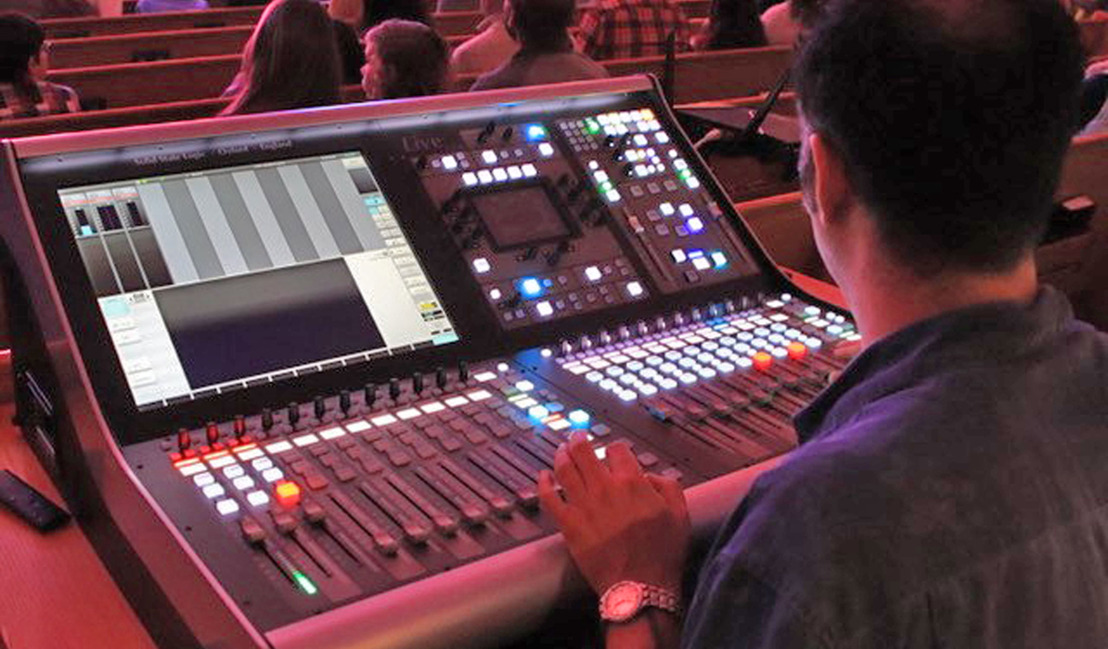 Chapel Hill Church Upgrades its FOH Console to Solid State Logic Live L350 Plus
Church cites console's flexibility and superior sound as primary differentiators
Gig Harbor, Washington, January 24, 2023 — Chapel Hill Church, a member of the Evangelical Presbyterian Church and a part of Washington state's Gig Harbor community since 1963, upgraded its front-of-house mixing console to a Solid State Logic Live L350 Plus recently. The new 24-fader desk is used to run the PA for the church's main 1,450-capacity sanctuary and distribute monitor signals to the musicians and singers while also feeding a broadcast stream.
"I recently moved to this church and a couple of months into my tenure we started experiencing some problems with the previous console," says Connor Caldwell, who is Chapel Hill's full-time production director. "I came from a church that was running an SSL Live L200 console, so I said to my technical director, 'I think an SSL Live would be a great fit for us.' We looked at the options and ultimately landed on the L350 Plus, and it has been a game-changer.
CCI Solutions, which has been providing AVL equipment and integration services to the worship community nationwide for more than four decades, supplied the church's new SSL Live console via the company's office in Seattle, Washington.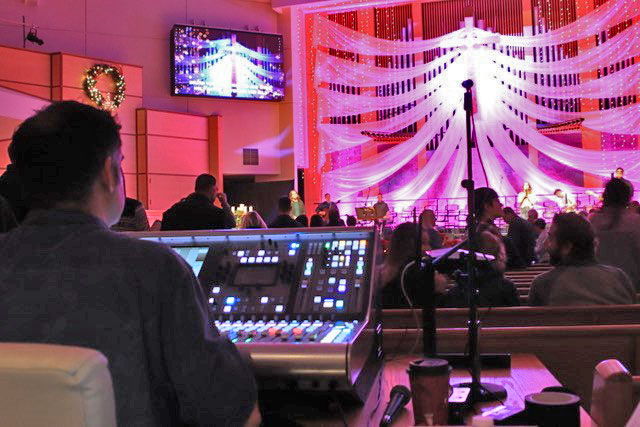 Measurable improvement in audio quality
​Caldwell reports that the improvement in audio quality was apparent the instant that the new L350 Plus was installed. But that was hardly a surprise since he had been through a similar upgrade with the L200 at his previous church. "On both occasions, once we got it installed and powered on and we were pumping stuff through those preamps, there was a noticeable difference in the tone and sonic quality and depth," he says.
The services are passed over Dante directly from the console for the church's broadcast feed, which is distributed out of a DAW. Once the new L350 desk was in place, he says, "The improvement in quality was immense. We were able to strip off all the plug-ins on the DAW input channels because now it sounds the way we want it to sound."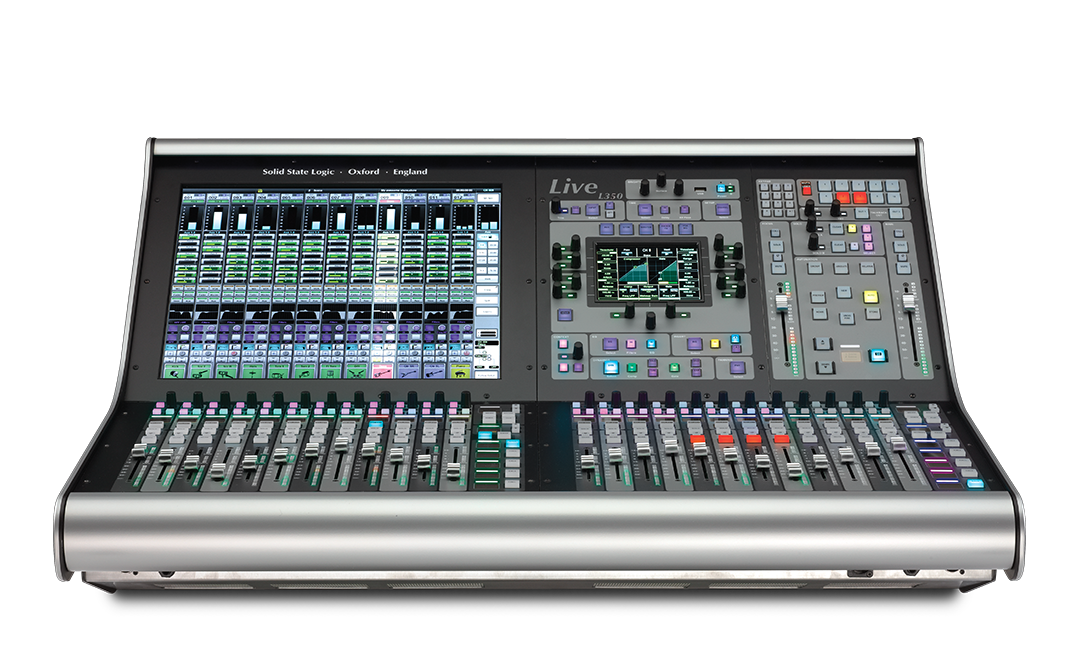 Phenomenal flexibility
​Caldwell finds that he no longer has to use onboard DSP to correct the audio in the sanctuary either, as he did with the previous console, and is instead using processing purely for creative purposes: "We don't use any processing to try to get rid of things we don't like. We're just using the SSL onboard processing to enhance the already good stuff. Mostly, it's a lot of the basic processing, like the SSL Bus Compressor for gluing drums together, the de-esser for spoken word and some reverbs and delays."
Chapel Hill Church holds two services every Sunday morning. "The flexibility of the L350 Plus is phenomenal, especially given that we do a traditional service with a pipe organ, brass, strings, timpani, bells and choir at nine o'clock and then a new contemporary service with a modern band at 10:30," says Caldwell, who mixes the services. "So the flexibility of the console and the scalable I/O was also a huge, huge draw for me."
The church's SSL Live system includes one ML 32.32 Stagebox, with 32 remote-controlled SSL SuperAnalogue™ mic/line inputs and 32 line outputs on the front panel and a second ML 32.32 stagebox, with just 32 front panel input connections. Both are connected over MADI to the FOH console.
The church's previous console system could handle only a limited number of inputs, so having 64 lines from stage to the L350 now means that Caldwell and his team can quickly strike and reset the stage for the later contemporary service without repatching, a process that used to take 30 minutes. "It could get really confusing when you're dealing with volunteers," he says. "But now everything has its own input on the stage, so we don't have to do any hot-swapping of inputs. And we're not even flipping between show files in the SSL; we've done it all with the onboard automation. It will automatically set everybody's monitors where they need to be, and set up faders, groups, layers and all that fun stuff. We just clear the stage, bring out the instruments and we're ready to rock."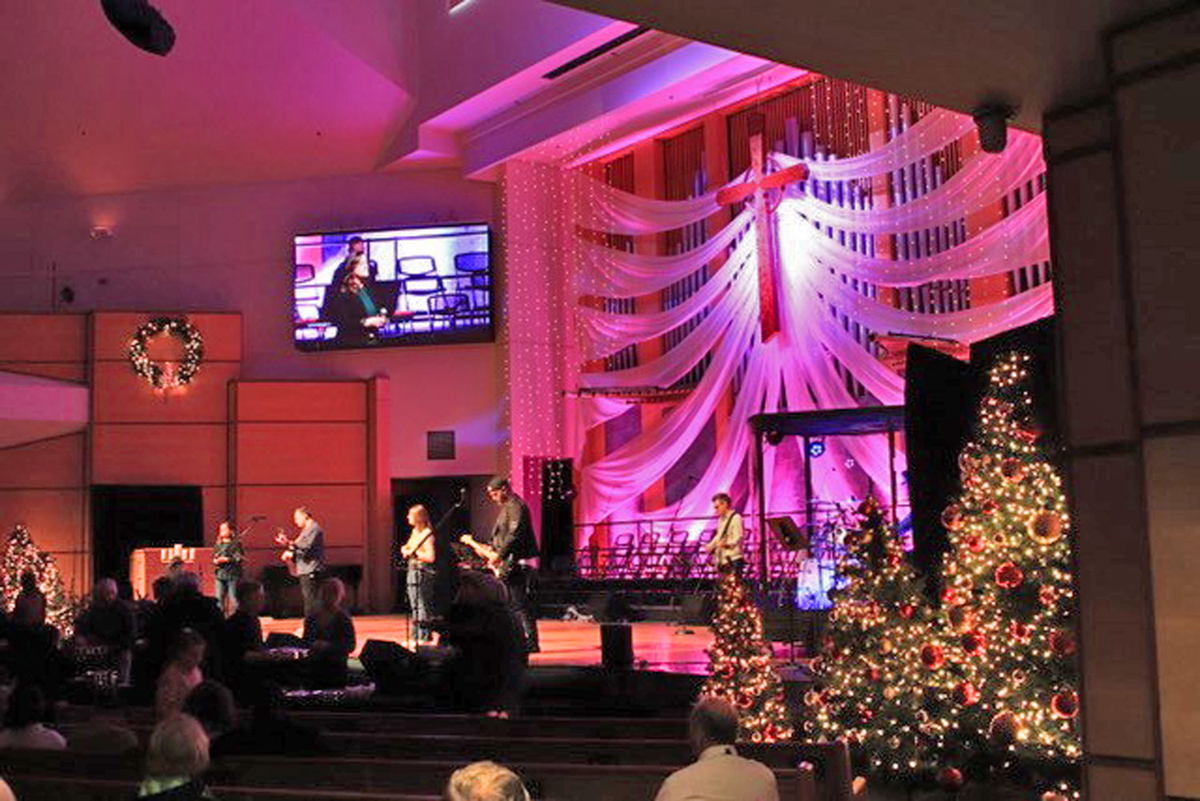 Resounding clarity for monitor mixes
​The new L350 at front-of-house is also used to feed monitor sends to the musicians and singers at both Sunday services. For the contemporary band, which typically includes drums, bass, keyboards, electric and acoustic guitars and as many as five vocalists, he says, "We use the SSL Live TaCo (Tablet Control) APP. We authorize all their iPads and lock into their specific auxiliaries at the start of a rehearsal and then they just mix their own ears."
The contemporary service band members noticed the improvement in audio quality the first time they heard themselves through the new Live desk, Caldwell reports. "The guitarist said, 'My guitar sounds present, it sounds clear, it sounds crisp. It doesn't sound like I'm listening to it through headphones, it sounds like I'm listening to it come out of the guitar.' Same with the drummer, who said, 'I can actually hear my overtones.'"
The classic service musicians immediately noticed the sonic improvements with the bell choir, he continues. "Those have always been instruments for which it has typically been difficult to get the clarity that we want, especially over our pipe organ, which has somewhere in the range of 3,800 pipes. That thing puts out some volume, so it can be a little difficult to hear the bells over it without feedback or other mess that you don't necessarily want to hear. But the very first weekend we installed the SSL console was a bell choir weekend, and they said, 'Oh my gosh, we can hear ourselves in the room.'" ​
Caldwell adds, "We got feedback from the pastors and congregants, too. They said, 'What did you do? The bells sound so good now.' It wasn't so much what I did, it was the magic of the SSL!"

​
About Solid State Logic
​Solid State Logic is the world's leading manufacturer of analogue and digital audio consoles and provider of creative tools for music, broadcast, live and post production professionals. For more information about our award-winning products, please visit: www.solidstatelogic.com.

Jeff Touzeau Public Relations, Hummingbird Media, Inc.